Pantone.py 0.2 released
As a matter of fact, installing legal Pantone palettes for Scribus takes about three minutes. But someone somewhere will always spend hours creating a script automating that. And then share it so that everybody benefits.
In this case that "lazy" person is our good old friend Olivier Berten who is mostly known as author of SwatchBooker — a free swatches editor. What he did is a script for Scribus that makes fetching Pantone swatches a matter of clicking few buttons.
The script can be run either from Scribus (Script->Execute Script...) or as a standalone application (since it's written in PyQt4). If you use Scribus < 1.5.0svn, it will just fetch palettes and save them for further use in Scribus. For Scribus 1.5.0svn it does more: you can insert colors you need right into the color palette of the currently opened document.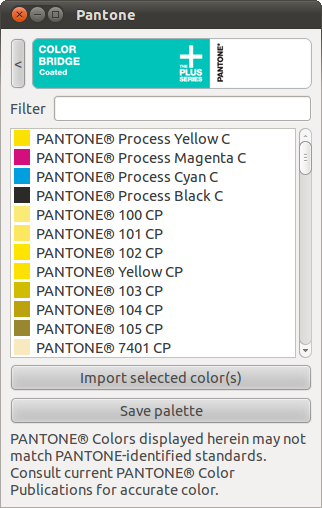 That probably sounds a bit like illegal use of Pantone's IP, but no — the Pantone.py script uses X-Ref. Even more, a large part of the script has been available since 2008 as part of SwatchBooker (which can download palettes from various web services).
Was it useful? There's more: