GTK+ theme preview plug-in for Gedit announced
If you ever tried to hand-code a GTK+ theme, you will probably like to check out a new Gedit plug-in called Cossa by Carlos Garnacho. The plug-in helps creating new GTK+ themes by providing preview of GTK+3 widgets.
Here is a short video demonstration provided by the developer: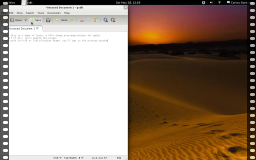 Right now the code is available only in Git repository. You can easily add more types of widgets to preview, here is a short manual how to do that.
Was it useful? There's more: